This one goes right into the "amazing things that happen in the US that us european people can only dream of" folder.
I am talking about the 2018 edition of the Billboard Music Awards. The BBMAs are an award ceremony hosted by Billboard, a publication and music popularity chart covering the music business, in Las Vegas in May. This year it took place on the 20th of May, so like the Sunday that just passed. So basically I woke up on the 21st of May to every kind of news from this event (since I live in Italy it happened overnight for me), and what an awakening it has been!
Let's be honest, I only cared for these Awards because I knew that BTS would have been present (if you don't know them you can read all about it in
this article
). But in my defense, I was not the only one to be hyped about their presence. Apart from the huge worldwide fanbase, a lot of celebrities and Billboard itself were really excited about this.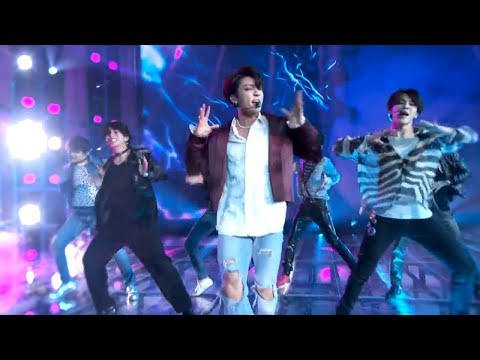 BTS
were
nominated for the "Top Social Artist" category (which they won, by the way) but the most awaited thing was their onstage performance of their new song "FAKE LOVE". In fact, they recently released a new album, "Love Yourself: Tear" and this would have been the first live performance of one of its songs. So yeah, PRETTY BIG DEAL. Useless to say, they were amazing and they killed it for two years in a row. In fact, they were also present to the 2017 edition of the BBMAs and won in the same category (they did not perform last year though).
But enough about BTS (I love you guys but, you understand, I need to talk about other things too).
First of all, the host for the night Kelly Clarkson opened the show with a great tribute to the victims of the mass shooting that happened on Friday in Texas, at the Santa Fe High School. She started crying at the moment she began to talk about it and still she continued, saying
"I"m a Texas girl and my home state has had so much heartbreak over the past year, and once again

y'all

we're grieving for more kids that have died for just an absolute no reason at all."
And in the end, instead of the moment of silence, she proposed "a moment of action" to finally change what's happening in the US.
This was truly powerful and emotional and honestly, I'm so glad influential people like her can be able to express their fear and sorrow towards the situation in public events like this one, where everyone will watch and maybe start thinking and acting upon this. As an Italian teenager I cannot even begin to imagine the fear students like me can feel of just going to school every morning, and surely I cannot understand what their parents may feel knowing that tragedies have happened. And the final thing I don't understand is how someone, facing events like this, can still believe in the law of arms as a form of protection and safety. But that is just my opinion.
Another great moment of this evening was acceptance speech of Luis Fonsi, who won "Top Hot 100 Song" for his and Daddy Yankee's "Despacito". He thanked the audience for "embracing a mostly Spanish song" and for wanting to dance to it and to learn it. The most touching part of his speech was the dedication of the award, that "goes out to all of my Latino brothers, all the immigrants. All the dreamers out there, all of those who get made fun of when you speak with an accent, all of those when they say, 'Hey speak English.' To you — Puerto Rico, this goes out to you." This was such a beautiful moment of inclusion and love-spread, coming from someone who clearly experienced all the cases he described, reminding to America, but I think to all of us, that "il mondo è bello perché é vario", as an Italian would say (it translates in "The world is beautiful because it's diverse").
Then, of course, there were performances by John Legend, Christina Aguilera, Demi Lovato, Ed Sheeran and Ariana Grande and also other great artists such as Taylor Swift, Jennifer Lopez, DJ Khaled, Shawn Mendes etc crossed the stage. As these things usually end, everything was beautiful and everyone killed it and then they all reunited at the after party to celebrate. Everyone except BTS, who went back to their hotel to do a live streaming to thank their fans.
This is too much, I am overwhelmed with cuteness and now excuse me because I have to go and cry in the bathroom.