I'm late to the party, but this week I went to the cinema to see 1917.
So a review is due.

I remember being amazed by it just from the trailer. The first thing I noticed was the cast, because it's iconic. It was like "Look, George MacKay!" and then "Oh Colin Firth is there too!" and then "Oh my God Andrew Scott!" and last but not least "BENEDICT CUMBERBATCH."

Then my attention moved to the story, and I realized I was immediately engaged just from a 3 minutes trailer. Long story short, I decided I couldn't not see it.

I forgot about it for a while. But then the Golden Globes happened and everyone was shocked by its winning as Best Picture, then the Oscars and so my interest went up and up until I just went to the cinema.
It was perfect. I wouldn't know how to describe it otherwise. Nothing of it bothered me. Not one detail missed, no wrong camera movement, no lacks in acting.

The most iconic thing of this movie is undoubtedly the choice to shoot in a sequence shot. It's basically when there are no (or close to none) camera cuts. It's a choice that needs a huge amount of work behind, because everything has to work perfeclty and smoothly, and you can't use editing to hide mistakes.

It's also a choice that is easier to realize if you have a static scene, where you don't need to have lots of things happening at once in the scene. But guys, this is a war movie. This means that wherever you look in the shot, something's happening. An explosion, someone running, chaos.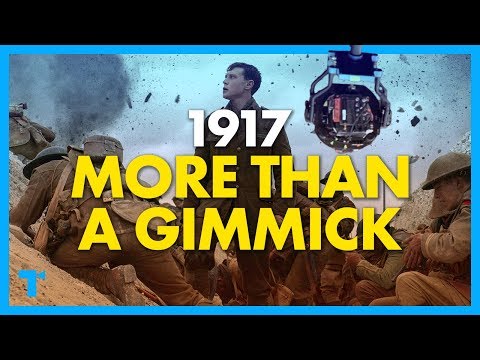 In spite of all of this, all the shots were stunning. Another thing that usually bothers me about sequence shots is that I am very impatient because I want to see all that's happening at once, while with this kind of camera movements every scene, every point of view takes its time. And yet, I loved it. The time thye took for every shot was worth it and I truly felt part of the story.
In some moments I could feel goosebumps on my skin and my eyes starting to get wet just from the beauty. While I was watching the now extremely talked about shot of the protagonist running while Hell breaks loose around him, I could feel history being made. Like I thought "Damn this shot is going down in history".

I really appreciated the choice to talk about an event happened in WWI, and I also happen to know that the person who told this story is a relative of the director, Sam Mendes.

Long story short: go see it if you haven't, you don't wanna miss it.